A must-see sight if you're in the area, this impressive and exciting underground marvel will delight and fascinate children and adults alike.
It's not a natural cave, but actually a long-abandoned slate mine whose origins date back as far as the sixteenth century. The site was bought in 1929 by none other than Beatrix Potter, who then gave it to the National Trust. The Trust still owns the area today, and preserves it in a completely natural state so people can explore the tunnels and caverns to gain a first-hand glimpse of the local industrial heritage.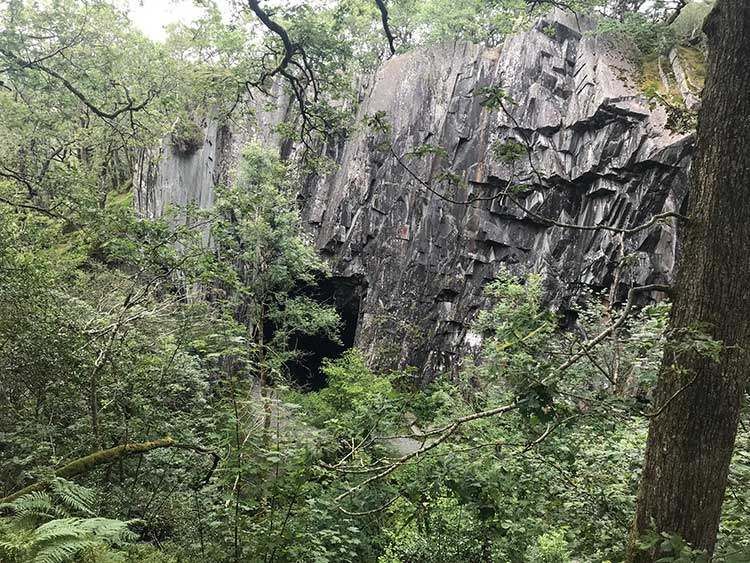 It's completely free
There's no signposts, no entrance fee, no interpretive visitor centre, no gift shop or café, no barriers or safety railings. You're completely free to explore wherever you like!
To find it, just walk down the lane from the Three Shires Inn and cross the River Brathay by the footbridge. Then take the track to the right which runs alongside the river, and after a couple of hundred yards you'll see another track doubling back and upwards through a gate on your left. The entrance to the caverns is just a few yards up this track.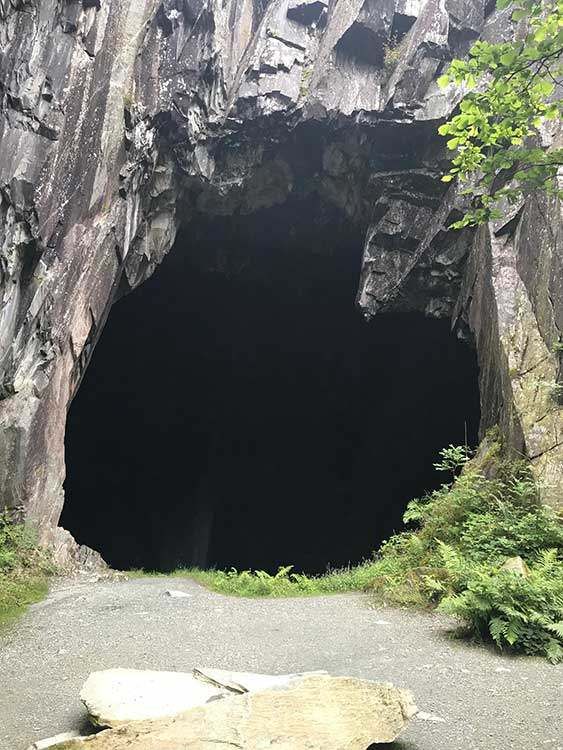 A short entrance tunnel leads directly into the vast main cavern, and it's pretty easy to see why it came to be called the Cathedral. It's a huge underground chamber, with a mighty pillar of rock left in the middle to support the roof, and a vast 'window' to the open air at the far end which provides plenty of light.
Walk along the side of the deep pool, and another short tunnel and a scramble up some rocks leads you to the upper, open air, level. From here you can look back down through the window into the Cathedral chamber and continue to explore more tunnels, the longest of which leads you 400 feet through the hillside and out into the open air at another entrance. You'll certainly need a torch if you want to explore this one.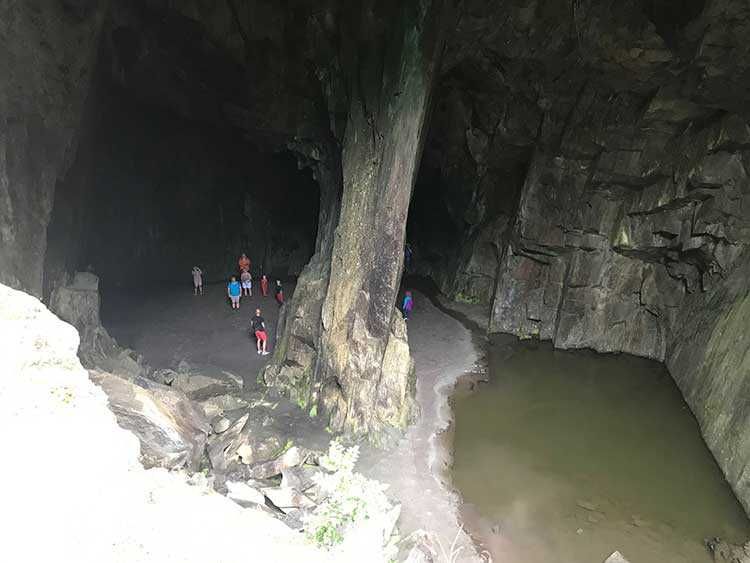 Safety first
As we've said, the Cathedral Cavern and tunnels are not fenced off and there's no supervision. There are rocks to clamber over, big drops with no railings, and plenty of scope to bump your head in the tunnels. It's entirely down to you to keep a close eye on the kids and use your common sense. And if that all sounds like your kind of adventure, then you're in for an exciting time!
The younger kids will love this subterranean world of wonder, looking out for fairies and goblins; and if you stand and watch the big pool for long enough, then you might see a surprise in there too! It's an equally fascinating place for older children and adults to explore too - just imagine these vast caverns and tunnels being blasted out with dynamite and then every ounce of rock being removed by hand!