Late in the evening of 22nd October 1944, the southern fells of Lakeland were cloaked in an impenetrable blanket of thick, dark cloud. The autumn chill and the still darkness hiding the crags and ridges were familiar conditions to the residents of Little Langdale, several of whom were doubtless huddled around the fire at the Three Shires Inn.
They certainly would have heard the deep rumble of the four Rolls Royce engines, throttled back to try and save every drop of precious fuel, as the fully armed Royal Canadian Air Force Handley Page Halifax Bomber circled high above them.
Halifax LL505, nicknamed 'S for Sugar', had flown out of the RAF base at Topcliffe near Thirsk in North Yorkshire on a night navigation training flight. Unfamiliar with this foreign landscape and its brooding weather conditions, the crew of eight young men were filled with a sense of foreboding. They were lost, circling slowly and continually, waiting and hoping for just a fleeting break in the cloud which would give navigator Francis Bell a chance of getting a fix on their position. At 33, Bell was by several years the oldest member of the crew and a highly experienced navigator; but conditions were stacked against him. Pilot John Johnson, aged 27, knew his plane well, and knew that time wasn't on their side. They'd been lost and circling too long, fuel was critically low, and the time for a terribly difficult decision, fraught with risk, was now upon him.
The other six members of the crew, all in their late teens and early twenties, could do nothing more than wait, hope, and trust in their pilot and navigator.
Johnston gently eased the aircraft into a cautious descent. He needed to drop below the cloud base for just long enough for Bell to get a positional fix; there was simply no other way, and no time left, to get their bearings and a route out of trouble. The engines slowed, the blinding cloud whistled around the cockpit windows, and hearts pounded as their eyes strained for that crucial glimpse of the landscape below.
They never saw it. All the crew ever knew was a terrible split second of crashing, exploding metal and flames as they thundered into the ridge known as Top of Broad Slack which lies between the summits of Swirl How and Great Carrs, high above the Little Langdale valley.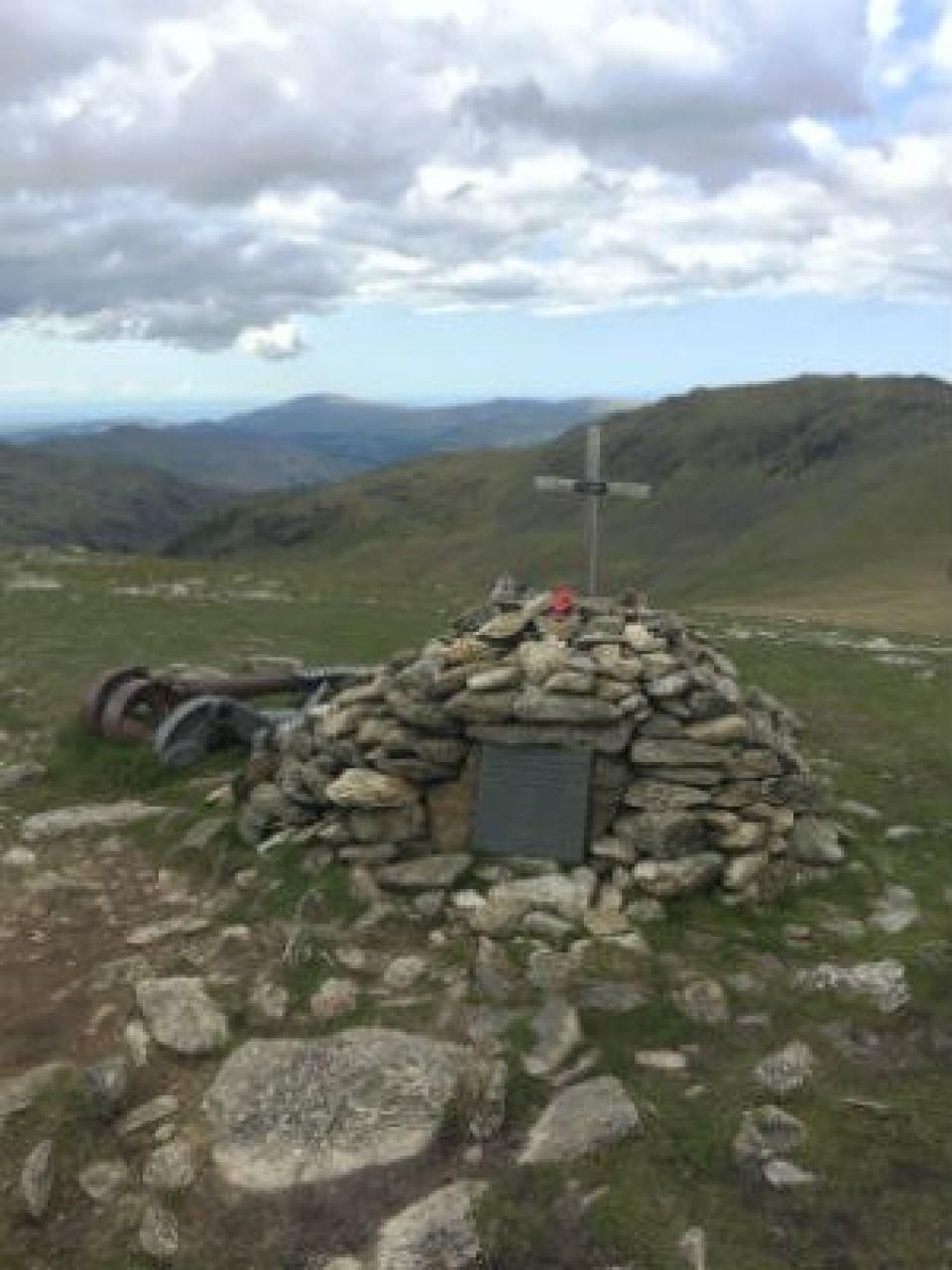 All of them perished, although the aircraft itself remained remarkably intact, and eventually had to be cut up and pushed down into the deep gully of Broad Slack so as to stop continual reports of sightings by passing planes. And much of the wreckage remains there to this day, clear to see strewn across the steep slope.
At the crash site itself, just a few yards west of the ridge, parts of the undercarriage have been used to create a lasting memorial to the bravery and dedication of those eight young men. The aluminium and rusting steel combines with a simple stone cairn, supporting an engraved slate memorial stone and topped with a wooden cross. It's a poignant sight, and well worth a visit and a few moments of reflection if you're passing this way during a day out in the high fells.