When we think about rock climbing we tend to think about being up high. The classic image of a climber is someone clinging onto a rock face, tied to a rope and trying to stay calm with a big drop beneath their feet. However, rock climbing comes in many forms and one of the increasingly popular ones is bouldering, which usually only requires you to climb a few metres off the ground.
Boulderers carry bouldering pads (basically a crash mat) with them, lay them at the bottom of large rocks or short walls and then try to climb the rock. The difference between bouldering and longer climbs is that the routes - called problems in bouldering - tend to require a lot more power and technique over a short distance, even the relatively 'easy' ones.
Bouldering started off as a way for rock climbers to train for longer routes, but has now become an activity in its own right. More and more people are becoming hooked on the physical and mental challenge of trying to levitate up seemingly featureless lumps of rock. There is also an appealing simplicity about an activity which requires only a pair of climbing shoes, a bouldering pad and a bag of chalk. And, of course, the boulders themselves tend to be in some pretty beautiful places.
As with almost every outdoor pursuit, the Three Shires Inn is blessed with having some excellent bouldering venues within a short distance. Here are four of the best local venues to visit for a fun day out getting tired fingers.
The Langdale boulders
One of the classic bouldering spots in the Lake District, the Langdale boulders are just a lovely place to spend time. A short distance from the village of Chapel Stile, they offer a variety of problems across a range of grades, all with a beautiful view of the Langdale Pikes. They even boast some prehistoric rock art, making you wonder whether ancient man was a boulderer as well.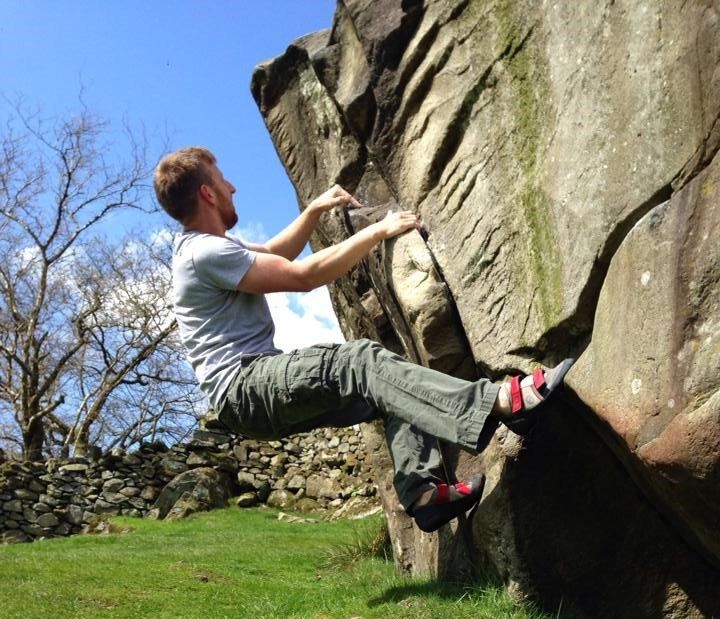 The Chapel Stile circuit
In bouldering parlance a 'circuit' refers to a collection of different rocks you can visit to move around and climb multiple routes. The slopes above Chapel Stile are home to a large collection of boulders and short walls with scores of fun problems. Head up a little path behind the church and you'll find more than enough entertainment for a sunny afternoon.
Blake Rigg boulders
Blea Tarn, on the saddle between Little and Great Langdale, is a magnet for visitors. The tarn and its view across to Pavey Ark and Pike Of Stickle is probably one of the most photographed in the Lakes and is the starting point for a host of beautiful walks as well as a lovely spot for a swim. It's also home to a couple of worthwhile boulders with a selection of mainly easier routes: A picturesque spot for a bit of fun and a pleasant cool down in the tarn afterwards.
Black Crag boulders
The slopes of Pike of Blisco, above Wrynose Pass, are hard to beat on a summer's evening; rays of sunshine washing across Crinkle Crags, warm, beautifully rough rock, peace, quiet and glorious mountain grandeur. Long Scar, Black Crag and Lightning Crag are popular spots in this area for rock climbing, but it is also home to a multitude of scattered boulders with a host of quality problems. There's no better spot to go for an evening's fun before you sit and watch the sunset.