Distance: About 13 miles to the summit of Coniston Old Man and back to the Three Shires Inn (if you return by the same route).
This ridge route climbs steadily from Little Langdale up to Swirl How via Wet Side Edge and then onto the summit of one of Lakeland's best known fells; Coniston Old Man (or the Old Man of Coniston depending on how you're feeling). En route it encounters rough, boggy ground with indistinct paths and, as always, you will need to be well prepared for the terrain and elements. You will also have to be ready to navigate, especially in poor weather and visibility.
From the Three Shires Inn to Greenburn
If you have been following our blogs about walks from the Three Shires Inn, then the beginning of this walk will be quite familiar!
From the Three Shires Inn turn right and walk a short distance to the tarmac lane leading left, downhill, where the old fashioned black and white road sign points towards Tilberthwaite. Head down the lane until you reach a small set of steps and wooden gate on the right, with a signpost pointing across a field to Slater Bridge. Go uphill through the field to another kissing gate and then down a well-trodden path to the beautifully crooked and ancient bridge across the beck.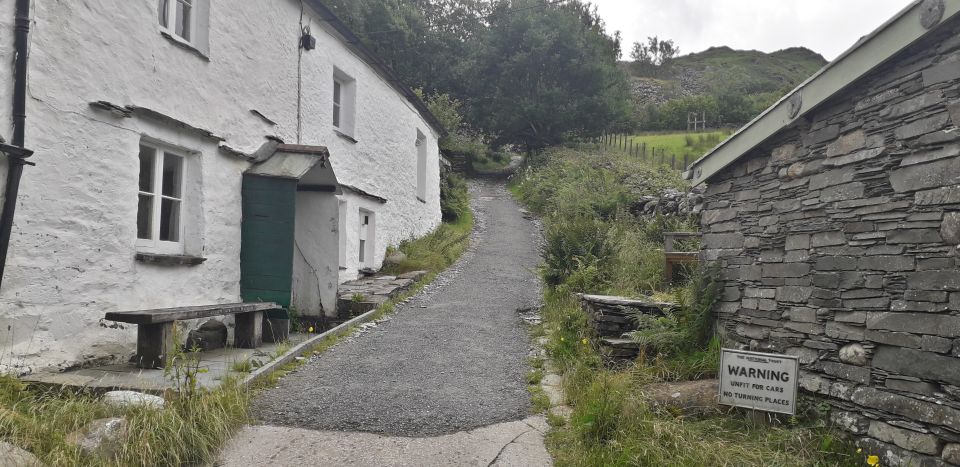 On the other side of the bridge follow a path to a track below a wall of slate slag and turn right. Follow the track to where it turns quite steeply uphill passing the white Low Hall Garth mountaineering hut. This track begins as tarmac but soon becomes quite rough as it turns right and contours along the hillside.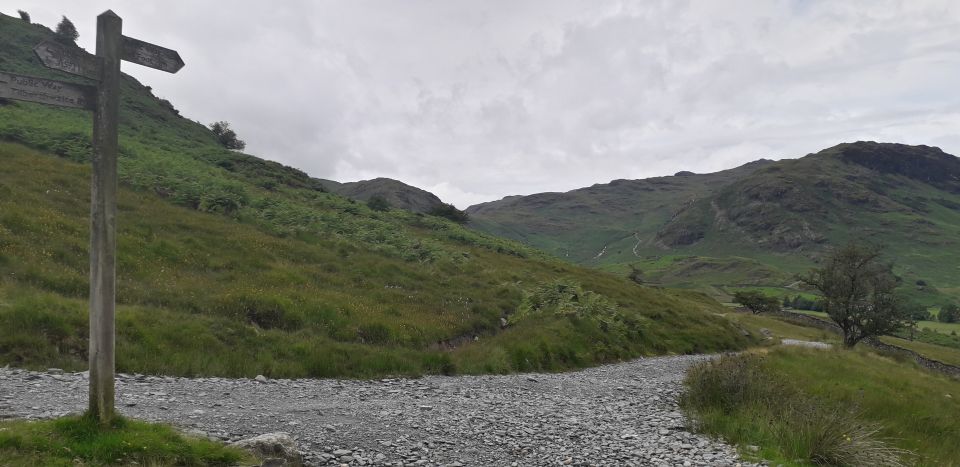 You will pass a junction where a path leads uphill (signposted to Tilberthwaite). Ignore this and continue on the track (signposted to Fell Foot). Continue until the path forks again and bear left heading up the valley, with Greenburn Beck on your right until you reach a gate and wall.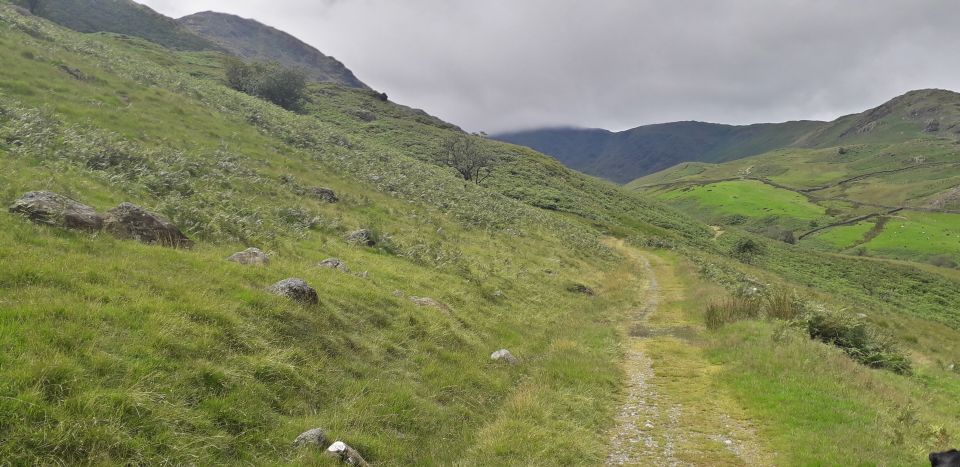 Greenburn to Swirl How
From the gate, drop down to the right to a footbridge to cross Greenburn Beck. From here a path leads up the hillside and curls around to the east to gradually climb the ridgeline of Wet Side Edge. Wet Side Edge lives up to its name and is boggy underfoot with an indistinct path at times. As the path climbs it bends around the head of the Greenburn valley to eventually reach the top of Little Carrs and then Great Carrs. From here a good path climbs to Swirl How.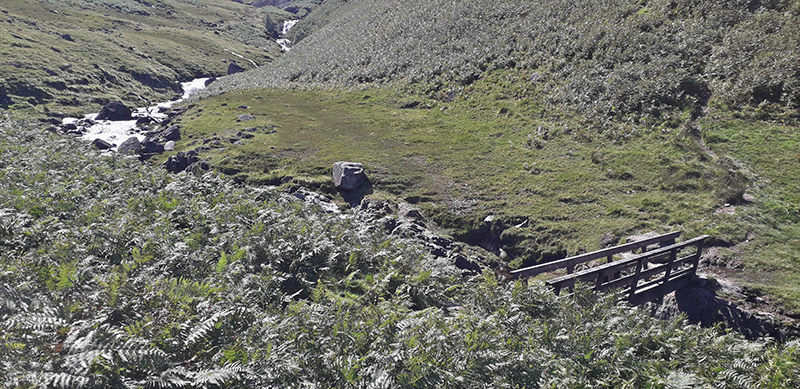 En route from Great Carrs to Swirl How look out for the wreckage of World War Two Halifax bomber, now covered with a cairn with a memorial cross and poppies. In 1944 the aircraft and its crew of eight perished when it crashed into the fellside in low cloud. While some of the aircraft still remains near the summit, more wreckage was strewn down the precipitous slope of Broad Slack which drops away to Greenburn.
Swirl How to Coniston Old Man
From Swirl How follow the well marked and trodden path that rolls across the fine ridge of land towards Coniston Old Man.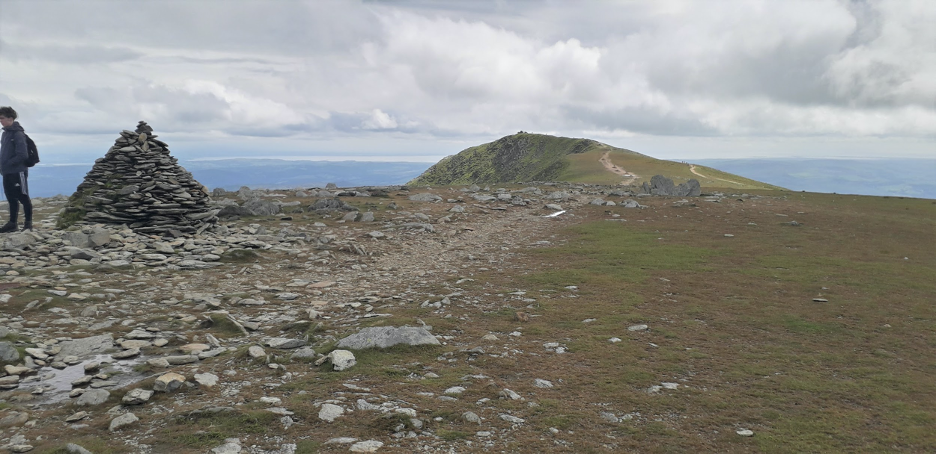 This first drops down to where it is bisected by a path coming up from Levers Water and then climbs steadily passing a series of cairns towards the ever popular top of Coniston Old Man and beautiful views across the Furness Peninsula.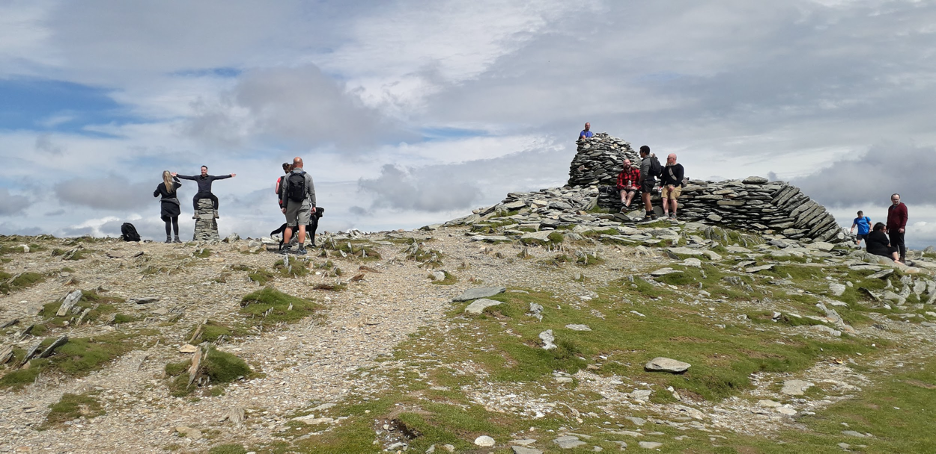 Getting back
From the summit of Coniston Old Man you can simply retrace your steps along the ridge to Swirl How and Great Carrs and down Wet Side Edge. However, it is also possible to drop down the steep ridge from Swirl How to Prison Band and head back via Wetherlam. This is a reversal of part of the route described here. This makes for an even longer day out, with a lot of rough ground and some indistinct route finding.