If you think of rock climbing, you may well imagine svelte, muscled athletes hauling themselves up seemingly impossible precipices.
However, although this type of death defying feat definitely has its place in the world of climbing, the vast majority of climbers are usually engaged in much gentler fare; cruising up easy angled rock for the pure pleasure of the movement and being outside in the mountains.
In the Langdales we are blessed with a huge variety of crags. They offer some of the hardest climbs in the world, as well as accessible classics for beginners and everything in between. Great Langdale has enough crags at different altitudes that it's possible to have a great day out linking a few climbs together and emerging - with great satisfaction - on top of one of the Langdale Pikes.
Of course, you must only go climbing if you have the experience, skills and equipment to do it safely. If you do, you could do a lot worse than linking up the crags and climbs described in this blog. A detailed description of the climbs, their locations and routes can be found in the Fell and Rock Climbing Club guide to Langdale; an essential purchase for any Lakes climber!
An easy classic on Upper Scout
For many a Lake District climber, some of their earliest experiences on rock may well take place at one of the Scout Crags. Although Middle Scout crag has many hard (very hard!) climbs on it, Lower Scout and Upper Scout are much more amenable and perfect for getting started.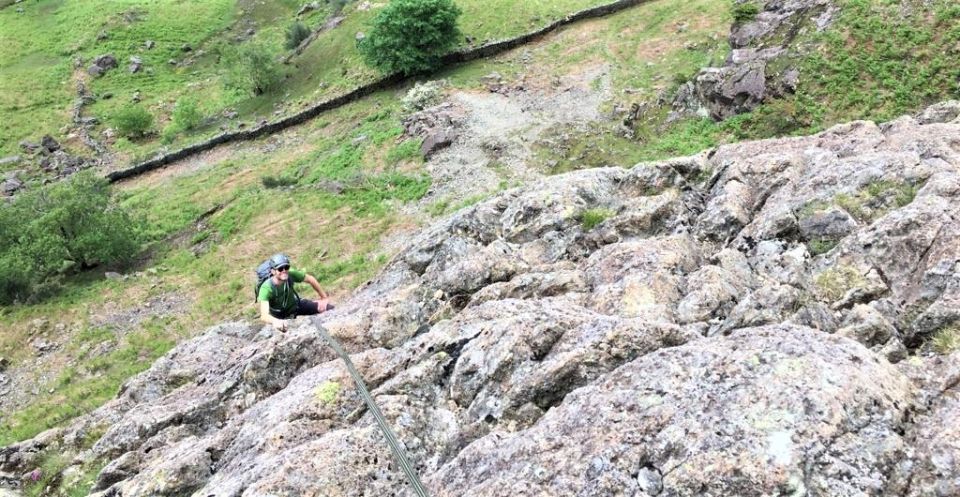 The crags lie on the hillside north east of Stickle Barn and the New Dungeon Ghyll pub. The main path up beside Stickle Ghyll runs by the public toilets and through a gate before a right fork takes you over a footbridge. Follow a cobbled track uphill for a short distance and then turn right through a gate. From here a path leads through woods, around the bottom of White Ghyll and then to the foot of the Scout Crags.
Upper Scout is home to a number of well trammelled easier climbs graded Very Difficult. Possibly the best of these is the boringly named Route 1, which follows slabs up to a bay before finishing beautifully up a broad ridge. A great way to get you warmed up for the day!
From the top of Upper Scout it is possible to traverse northwards around the hillside back towards White Ghyll and drop down into the ghyll's stony bottom.
Slab surfing in White Ghyll
A prominent tree in White Ghyll provides shade on a sunny day and a natural place for climbers to congregate and gear up ready for the many wonderful climbs on the crags above.
A great option for continuing a gradual (and not too difficult) ascent lies slightly further up the ghyll on the wide sweep of slabs. There are a choice of climbs graded Severe here. The route known as The Slabs, Route 1 is a three star classic and follows good holds up great rock.
At the top of the route, head north - skirting the top of the ghyll - and then west, crossing undulating terrain towards Stickle Tarn and the huge hulking mass of Pavey Ark, our next objective.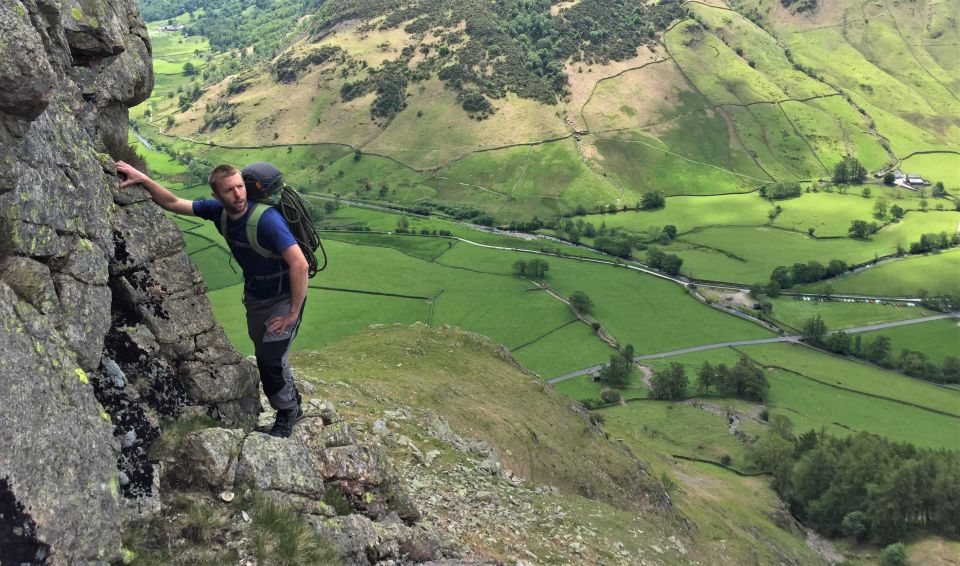 Perfect rock on Pavey Ark
Like White Ghyll crag, Pavey Ark is home to a dizzying array of climbs - including an unbelievably hard recent ascent named Lexicon, graded a terrifying E11! At the completely opposite end of the scale, it is also the location of one of the Lake District's most popular easy scrambles - the diagonal gully of Jack's Rake.
Once you arrive at Stickle Tarn, follow the path around the shore to the steep scree slope that heads up towards the cliffs of Pavey Ark and the beginning of Jack's Rake. A massive selection of climbs start from the rake, usually ending on the top of Pavey Ark.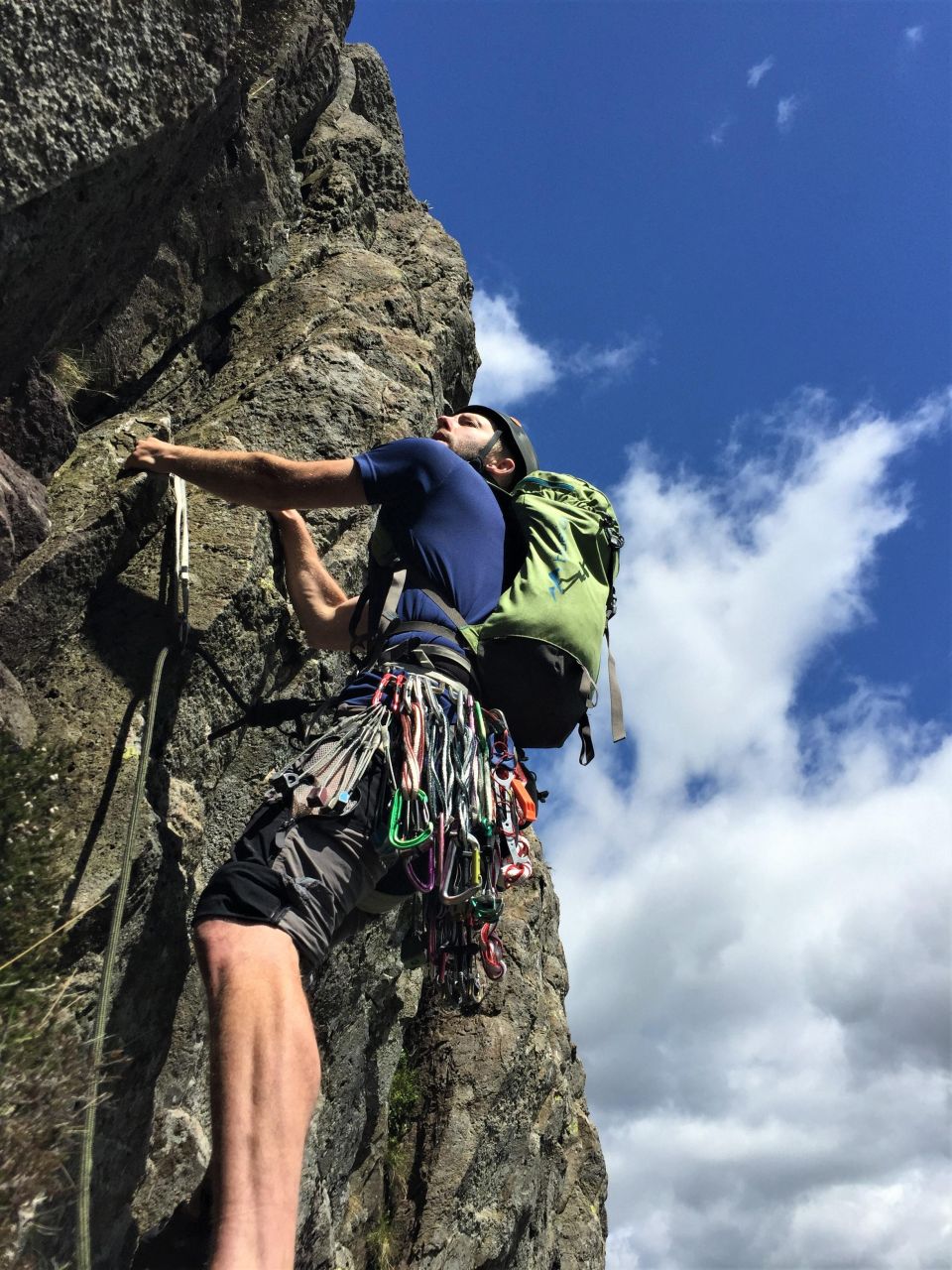 Stoats Crack, a Hard Severe which starts lower down the rake, is a good choice in keeping with our relaxed approach so far. Coati, a low-in-the-grade Very Severe, also starts about halfway up. However, we'll leave it up to you which of the many choices you pick!
If you do choose to ascend Coati you will be treated to wonderfully grippy, featured rock and then an easy scramble to the top, with great views across to Harrison Stickle and High Raise.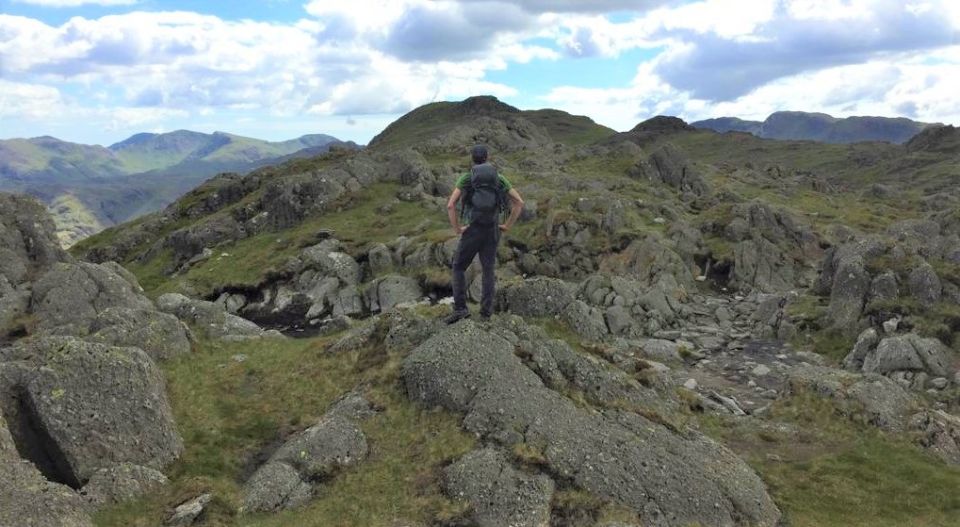 Which routes will you choose?
With so many crags and mountains in Great Langdale, it is possible to come up with many different variations. Another classic outing is to combine climbs on Raven Crag, above the Old Dungeon Ghyll Pub, with something of Gimmer Crag and then top out on Harrison Stickle.
We're sure our rock climbing friends will have fun coming up with their own routes up the valley sides! Whatever happens, we'll be only too happy to accommodate you at the Three Shires Inn and ply you with good food and beer at the end of the day.